We call your selection to be reviewed with or without test scores your "Test Plan Choice." The screenshots below will illustrate how you can review and change your Test Plan Choice.
Log into your applicant status portal to view your test plan choice. Based on the selection you made within the Common Application, you may see one of three things:
Do not consider SAT or ACT scores as part of my application.

I would like my SAT or ACT scores to be included in my application.

A test score is required for Nursing and Early Childhood Education applicants.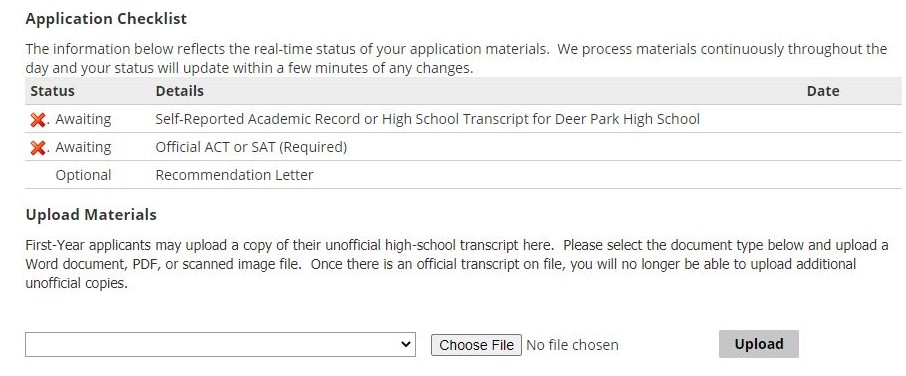 Changing Your Test Plan Choice
If you would like to change your test plan choice, navigate to the Test Plan Information section of your portal and click "Change my test plan." You will have until November 1, 2021 to adjust your Test Plan Choice. If you need to make a change after that point, please contact your admissions counselor. Changes after November 1 will be made on a case-by-case basis and only for extenuating circumstances.

A box will pop up that allows you to select a new test plan choice. Be sure to enable pop-ups for this page.
Make your selection, complete the form, and press "Submit."
You will be taken back to your applicant status portal. Within one business day, you should see your new test plan in the Test Plan Information section. Additionally, the details associated with this part of your Application Checklist will adjust appropriately.