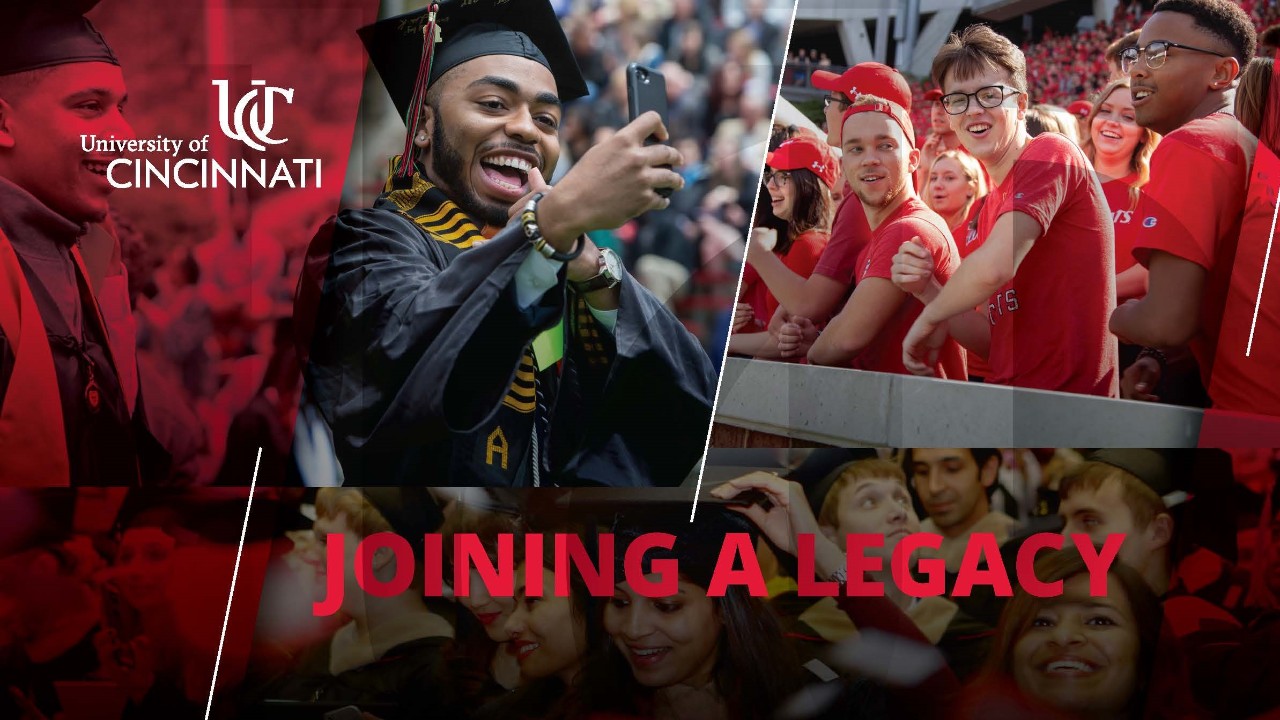 Connect with the University of Cincinnati during the Cincinnati Public School student event, Joining a Legacy! This event will allow CPS students to get a running start with the University of Cincinnati application or admissions confirmation process, get advice from UC enrollment experts, and learn how to prepare for the next steps of their academic journey. 
Information on all three University of Cincinnati campuses: Uptown (main), Blue Ash, and Clermont 
Overview of application process, admission confirmation, and financial aid 
Free application to UC Blue Ash or UC Clermont for the fall 2021 semester (for students still interested in applying)
Housing application and orientation registration (for admitted students)
Complimentary meal
Please note this event will be hosted outside and guests will be asked to follow COVID safety procedures as well as practice social distancing.
Select an Event Type to Review Dates & Register
Event Itinerary
Check-in
Welcome & Admissions Overview
Application Completion
Bearcat Connection (games) & Food
Event Dates & Times
Due to inclement weather forecasts, the April 10 event has been canceled.
Free parking is available for all guests. Please be sure to use the designated parking available provided by the CPS high school. More details will be sent after registering for the event. 
COVID Guidelines & Policies
To ensure the health and safety of the Bearcat community, we have established attendee guidelines to review before you arrive at this event. 
All attendees will be required to complete a COVID symptom assessment form or download our COVID check app prior to their arrival. Please be prepared to bring your results with you. All your answers to these questions on the paper form must be negative or you must receive the status "Clear for Campus" in the app in order to participate in this event. If a guest does not have this upon arrival, they will be expected to complete the paper form when they arrive.
Each attendee's temperature will be taken upon check in.
All attendees are required to wear a face covering for the duration of the event. If you do not have a mask, our staff will provide one. Failure to wear a mask will result in attendees being asked to leave. 
Gloves will be provided upon request to help attendees feel more comfortable. 
Social distance (six feet) will be required – please follow any tape guidelines where placed on the ground.
Only pre-registered guests will be able to access this event, as there is a maximum number of guests and staff who can participate.
Due to space and social distancing guidelines, the event is only during the one-hour designated time slot selected during registration.
If the Ohio government declares the county where the campus resides (Hamilton County) has reached purple status, all in-person offerings will be cancelled for at least two weeks. In-person offerings will resume when the county is no longer purple. 
If University, local, state, and/or national administration announces a shelter in place/stay at home order, then all events will be canceled until allowed to re-open. 
Please note that as federal, state, local, and university guidelines related to COVID-19 continue to shift, opportunities and visitor expectations may shift. Always refer to the most recent communication from the University of Cincinnati for updated guidelines and information.
If you have any questions or need to cancel your attendance, please contact admissions@uc.edu or 513-556-1100.